Press release
Three New Kindergartens opened in Martvili Municipality
2019-11-11 11:12:00
Three new kindergartens that meets modern standards have been opened in Martvili municipality.
The State Representative of Samegrelo-Zemo Svaneti Alexander Motserelia together with Martvili and Abasha majoritarian MP Otar Danelia and Mayor of Martvili Municipality Alexander Grigalava opened the new kindergartens in the administrative units of Sergieti, Inchkhuri and Tamakoni.
The kindergartens in the existing villages had not been functioning before and the parents were taking the children to the neighboring villages and the preschools in the center of Martvili.
A total cost of kindergarten construction works is 292 425 GEL. Funded from the "Village Support Program" and local budget.
The State Representative also visited Martvili's first kindergarten today to get acquainted with the situation. Rehabilitation of the first and second kindergartens is planned and this time the design works are underway.
According to Alexander Motserelia statement, the construction of new kindergartens and rehabilitation of existing kindergartens in Martvili municipality will take a larger scale next year.
The State Representative also visited the Memorial of Glory in Martvili today. This time the design works are underway. The existing Memorial will be restored, where will arrange the obelisk for immortalize fallen Martvilians' in a various wars. Along with the memorial will be arranged a square.
before beginning the rehabilitation works the memorial area will be cleaned. Alexander Motserelia got acquainted with the construction works of the new building of the Fire Rescue Service in Martvili. Completion of the facility is planned for January.
The State representative also observed the bridge condition connecting the Nalepsao district. This time the design work of the bridge rehabilitation is completed and are being find financial resources.
პროექტ დაიჯესტი
Poto Galery
რეგიონის რუკა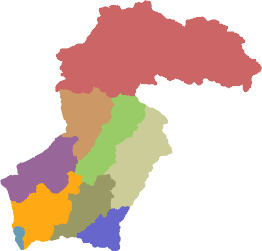 News calendar
ბანერები