Press release
Construction of Panel Bridge completed in Chuberi
2018-07-11 19:00:00
Construction of the Panel Bridge was completed in Chuberi. After constructing the bridge, construction techniques have already been transferred to the left bank of the river Nenskra and will carry out intensive work. Because of the lack of the bridge and the damaged bypass road, Nenskra left bank could not be reinforced and reinstalled, due to this the emergency headquarters in Chuberi addressed the Defense Minister with a request to allocate a specialized bridge.
The natural disaster damaged 6 bridges in Chuberi, causing difficulties in motor communication with people living on the left bank of the river Nenskra.
Sozar Subari, Samegrelo-Zemo Svaneti Governor Levan Shonia and Mestia Mayor Kapiton Zhorzholiani are heading the disaster zone.
პროექტ დაიჯესტი
Poto Galery
რეგიონის რუკა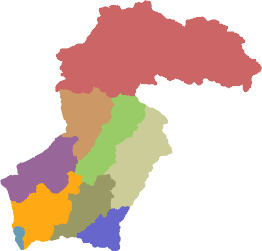 News calendar
ბანერები