Press release
Beer festival within the framework of "Way to Unity-Rukhi 2018''
2018-06-16 23:50:00
Bavaria" Beer Festival was held within the framework of "Way to Unity-Rukhi 2018 at Rukhi Trade Center today. Representatives of the region took participation in the festival. After the competition, Abasha's team won a full-fledged tour in Amsterdam. Within the event, the concert of "Vake Park" was held.
Beer Festival was hosted by Governor of Samegrelo-Zemo Svaneti Levan Shonia, Deputy Governor David Kodua, Zugdidi majoritarian MP Merab Kvaraia, City Council chairperson Mamuka Tsotseria i and local government representatives.
Festival ""Way to Unity-Rukhi 2018" started on June 14 and will last until 15th July.
With the support of Samegrelo Zemo Svaneti and the City Hall of Zugdidi Municipality, Rukhi Trade Center, located 600m from Enguri Bridge, will hold a variety of sports-cultural events within the framework of "Way to Unity-Rukhi - 2018 S.
ee the schedule of events: http://szs.gov.ge/geo/news/show/10/1728
პროექტ დაიჯესტი
Poto Galery
რეგიონის რუკა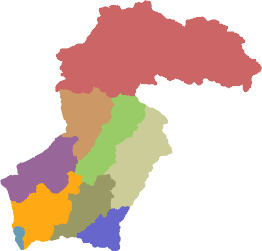 News calendar
ბანერები