First Deputy Governor
Koba Khantaria
Making day: Tuesday 11: 00-14: 00.
Phone: +955 415 250004
Fax: +955 415 250505
E-mail: qantariak@gmail.com
Date of birth: October 4, 1969
Place of birth: ZugdidI, Georgia
Marital status: single
Languages: Georgian, Russian, English
Education : Iv. Javakhishvili Tbilisi State University
Speciality: Construction Economics and Organization
Qualification: Engineer-economist
Work activities:
1990-1994: Tax Inspection of Vake district, Tbilisi. Senior inspector
1994-1997: Inspector of the 6th Division of Operative Division of Tax Department of Georgia
1997-1998: Deputy head of Isani district division of the tax department of Tbilisi
1998-1999: Head of collection department of Isani district tax department of Tbilisi
1999-2001: Head of Samegrelo-Zemo Svaneti Regional Division of Operative Department of the Ministry of Finance
2001-2002: Deputy Head of Enterprise Division of the same Department at the Central Office
2002-2003: Head of Control Department of Mtskheta-Mtianeti Regional Tax Inspection Department
2004-2007: Head of the Audit Department of Forensic Criminalistics Main Division of the Ministry of Internal Affairs of Georgia
From 2005-Senior Lieutenant of police
2013-2014: Manager of the United Water Supply Company of Georgia Samegrelo Svaneti Regional Branch
From Jnuary of 2014: First deputy of the State Representative-Governor in Abasha, Zugdidi, Martvili, Mestia, Senaki, Chkhorotsku, Tsalenjikha, Khobi Municipalities and in self-governing town of Poti.
პროექტ დაიჯესტი
Poto Galery
რეგიონის რუკა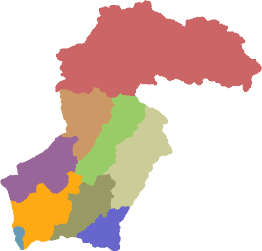 News calendar
ბანერები