Press release
Alexander Motserelia visited the Panchvidze family in the village of Didi Chkoni and gave presents to the youngest member of the family with personal funds
2020-04-08 22:49:00
The State Represenative of Samegrelo-Zemo Svaneti Alexander Motserelia visited the Panchvidze family in the village of Didi Chkoni and gave presents to the youngest member of the family with personal funds.
A 5-year-old girl, whose video about "Lughi" (figs fruit) gained popularity on the social network, she received such kind of gifts from the State representative, what she had dreamed an interview with "Atinati."
Alexander Motserelia handed over portable computer, bed, computer desk, cash assistance and sweets to Christina Panchvidze with personal funds, even the deputy of the State Representative Nino Vibliani presented a bike to a little girl.
According to Alexander Motserelia, about Christina's video became aware from his youngest daughter: "Last night my younger daughter, who is Christina's peer, called me and told me about this video. Today I tried to fulfill all the dreams that Christina had " Said the State Representative and Christina Panchvidze contacted her daughter via video call.
Alexander Motserelia promised to help the socially vulnerable family build a house, while to father of Christina promised employment.
5-year-old Christina Panchvidze lives with her father, grandmother and aunt in the village of Didi Chkoni, Martvili Municipality.
პროექტ დაიჯესტი
Poto Galery
რეგიონის რუკა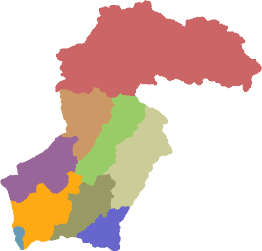 News calendar
ბანერები