Press release
The equipping process of Rukhi University Clinic is underway
2020-04-06 22:19:00
The State Representative of Samegrelo-Zemo Svaneti Alexander Motserelia together with his deputy Malkhaz Toria and Zugdidi Municipality Mayor Giorgi Shengelia got aqcuainted
The State Representative of Samegrelo-Zemo Svaneti Alexander Motserelia together with his deputy Malkhaz Toria, Toria, Zugdidi Majoritarian MP Edisher Toloraia and Zugdidi Municipality Mayor Giorgi Shengelia got aqcuainted the equipping process of Rukhi University Clinic.
The clinic, which will be able to serve 100 patients at a time. Rukhi Medical Center will be able to accept quarantined citizens in three days, and at the next stage the center will be able to accept citizens who are in a delayed mode and patients with an infectious profile.
A 100-room dormitory has been set up on the territory of the Rukhi hospital, intended for the family members of the patients undergoing treatment there. Parking lots and internal roads have already been set up at the location.
In the future, the clinic will also be able to fulfill the function of a teaching hospital. There are also spaces for lecture halls, a library, and sports facilities at the location. The Rukhi multi-specialty medical clinic project received 41 million GEL in funding from the state budget. Construction works were carried out by the Ministry of Regional Development and Infrastructure
პროექტ დაიჯესტი
Poto Galery
რეგიონის რუკა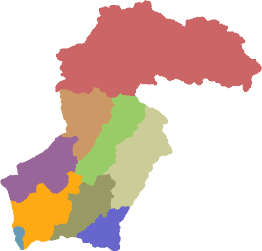 News calendar
ბანერები