Press release
Alexander Motserelia: thanks to citizens for taking responsibility for the emerging situation
2020-04-05 18:33:00
The State Representative of Samegrelo-Zemo Svaneti Alexander Motserelia together with Poti local authorities got acquainted Checkpoints functioning located at both entrances of the city.
"The purpose of my arrival is to get to know the situation on the spot, to become closely acquainted.
I would like to express my gratitude to our citizens and apologize too that they have inhibit. However, this is a necessity and they taking responsibility for the emerging situation.
In fact, no one refuses thermal-screening, even though there was no inconvenience.
We discussed how to discharge Poti's chekpoints created traffic jam,bBut this time the maximum that is being done does not allow us to do better "-Stated Alexander Motserelia.
According to the State Representative the checkpoints are well-versed in their duties and to prevent further spread of COVID-19, their functioning is of great importance, because at an early stage suspicious patients are identified and isolated.
The State Representative have been in the checkpoint located in the village Tsatskhvi in Zugdidi Municipality. Alexander Motserelia thanked the military and police officers on the spot.
პროექტ დაიჯესტი
Poto Galery
რეგიონის რუკა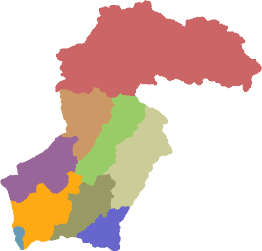 News calendar
ბანერები