Press release
Poti City Hall introduced large scale projects to be implemented to the population
2019-10-12 13:05:00
Poti City Hall held a presentation to be implemented and ongoing infrastructure projects.
The State Representative of Samegrelo-Zemo svaneti Alexander Motserelia and Konstantine Topuria Deputy Mayor of Poti presented the projects with the population.
Construction of the connecting road of Baratashvili Street and Maltakva Boulevard has been completed.
In 2019, 5 kindergartens were gasified. By 2020, all kindergartens will be gasified in Poti.
The five public schools rehabilitation works completed of the city. The process will continue next year.
Within the framework of the project will be arranged two modern standards stadium with lighting and a tribune of 300 spectators and a technical building, that will be included players' and referees' dressing rooms, coaches' rooms and medical facilities. Construction of the football school began in July this year and will be completed in the end of 2020.
the former building of Poti hydro amelioration technical college building will completely rehabilitated , where the maritime school will be located.
The new oarsmanship base will build on the Kaparcha river in Poti. The outdoor and indoor spaces of the building will be adapted for persons with disabilities. At the same time, large scale cleaning works are underway on the river Kaparcha. The project investigates Paliastomi lake hydrodynamic regime restoration and cleaning the river bank up to 3700 meters.
It was planed the road rehabilitation of Chavchavadze, Tavdadebuli, Tamar Mepe, Berdiansky, Besiki, Akaki and St. George's Streets.
Next year Poti will have 10 new buses, a bus stop places will be arranged.
პროექტ დაიჯესტი
Poto Galery
რეგიონის რუკა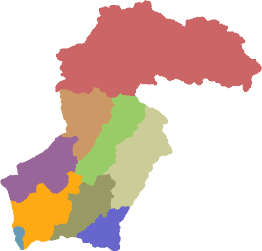 News calendar
ბანერები