Press release
Meetings in the villages of Mestia municipality
2019-08-25 11:37:00
the State Representative of the Samegrelo-Zemo Svaneti Region Alexander Motserelia continues meetings with population. This time the meetings were held in Mestia municipality administrative units: Mulakhi, Iphari and Ushguli community village Murkmeli and Chazha.
At the meeting with local population in the villages of Mestia attended by the State Representative of Samegrelo-Zemo Svaneti , deputy Nino Vibliani and the Mayor of the municipality Capton Zhorzholiani.
The State Representative inspected the rehabilitation towers and buildings and got acquainted with the condition of the rehabilitated towers, which done with some flaw.
Alexander Motserelia created an initiative group to solve problems in the villages of Mulakhi and Ushguli, where presented as Self-Government Representatives as well as local population. The goal of the initiative group is to communicate closely with local and central authorities to resolve the problems in the village.
პროექტ დაიჯესტი
Poto Galery
რეგიონის რუკა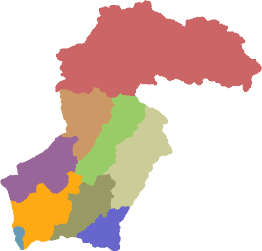 News calendar
ბანერები