Press release
Bertha von Suttner Peace Prize founded
2019-05-08 16:55:00
Bertha von Suttner Peace Prize Award ceremony took place in the Pupil and Youth Palace in Zugdidi. Suttner Peace Prise foundation aims to worship the contribution of activists participating in peacemaking activities, promoting peaceful attitudes in the society and encouraging young people in the process of building trust.
Today's event has been attended by the State Representative of Samegrelo Zemo-Svaneti Alexander Motserelia, the State Ministry for Reconciliation and Civic Equality Ketevan Tsikhelashvili, the Ambassador Extraordinary and Plenipotentiary of the Austrian Republic to Georgia, Arian Benko and Petra Kepler - Rector of Bertha von Suttner Peace Institute in Hague.
"I am deeply delighted to attend this important event here with you. It is indeed an important and responsible event for Zugdidi to identify the first person honored with Bertha von Suttner Peace Prize. Bertha von Suttner was the first Women to win Nobel Peace Prize. A prominent leader of the international peace movement, who was formed as pacifist during her stay and work in Georgia. Bertha and Arthur von Suttner spent years in Zugdidi, and the most remarkable is their connections and relationships with the Dadiani palace, namely, Ekaterine Chavchavadze and her children. Those years are exactly what Bertha calls years of formation on her worldviews and beliefs, and she loudly declares that if not the years spent in Zugdidi she could never become that particular Bertha von Suttner, as she had been known worldwide. The possession of this prize is really great honor but a huge responsibility for, which has a special essence as well;
First and foremost we need to resolve conflict in a peaceful way, we want to resume peaceful co-existence with our Abkhaz and Ossetian brothers and sisters. "I honestly welcome such initiatives and thank founders for the Bertha von Suttner Prize", the state Representative Alexander Motserelia stated during his speech.
The event was held in cooperation with the Embassy of Austria in Georgia and under the patronage of Zugdidi Municipality City Hall.
პროექტ დაიჯესტი
Poto Galery
რეგიონის რუკა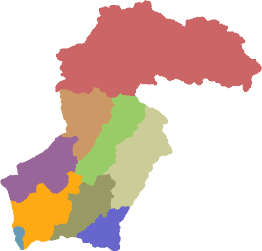 News calendar
ბანერები