Press release
Levan Shonia's Statement
2018-07-26 12:56:00
I worked for more than four years in the position of the State Governor of Samegrelo-Zemo Svaneti. During this time, we had the most important success for the region, but there were so many difficulties that we have overcome. In the past four years, the region has implemented 1 billion 100 million GEL infrastructure projects that were vital for Samegrelo-Zemo Svaneti.
I want to thank the team for the confidence that I was able to make the maximum of opportunities for our region. Thanks to all state agencies, municipalities of the region, their heads and employees, thank the big family of policemen from where I come!
I would like to express my gratitude to the Governor's administration staff who works in the 24 hour regime for the benefit of the region.
Thank you for the trust of the team, thanks to our region, thanks to our veterans whose support and advice I received regularly, their work is invaluable.
I wish success to future Governor of Samegrelo-Zemo Svaneti, I hope that the new leader will be able to develop more for the region!
I was and I remain a faithful member of the team!
პროექტ დაიჯესტი
Poto Galery
რეგიონის რუკა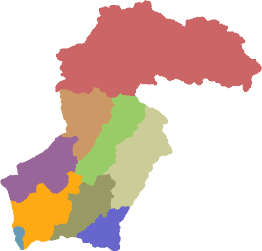 News calendar
ბანერები