Press release
Statement of the State Representative - Governor Levan Shonia
2018-07-12 15:20:00
Chuberi disaster has shown us the unity and struggle for one purpose. All agencies worked coordinated in 24-hour regime, which made the result.
In fact, in two days we managed to build a panel bridge and solve the main problem. The technique went to Nenskra left bank and carried out the active work there.
I want to thank everyone who has worked for these days for Chuberi. Special thanks to the staff of the Emergency Management Service and the police, whose heroic and selfless work surprised everyone. I would like to thank the Ministry of Defense, our soldiers, who have done a very hard job to connect the devided parts of Chuberi in the shortest time.
As a result of the disaster, the Prime Minister and the Government members were familiar with the situation in Chuberi and all the necessary agencies were involved in the timely solution of the problem.According to the decision of the Prime Minister, the governments will help all the people affected by the disaster to build, repair, or purchase the house.
The Ministry of Infrastructure, and the whole department was involved in the timely solution of the problem. Construction equipment worked 24 hours in order not to damage the river. They managed to reinforce Nenskra's bed, maintain roads and alternate roads. This time the Ministry works on designing roads and bridges and restoring them in the shortest time.
From the first day of the disaster, the employees of "Energo-Pro Georgia" performed the most difficult works. On the day of the disaster, electricity supply was restored to the people living on the right side of the Nenskra River.
Chuberi's disaster has shown us the unique unity. From the very first day, our region's municipalities managed to mobilize food, medicines and products of primary consumption.
Tbilisi, Zugdidi, Poti, Tsalenjikha, Chkhorotsku, Senaki, Khobi, Martvili and Abasha municipalities, Poti City Council, Imereti Governor's administration, Nenskra Hydro, Gormade, Gulf, Farmadeppo , the Ministry of Environment Protection and Agriculture, "Bervili Group" Ltd, "Agricom Ltd" Ltd and "Cerera Ltd" delivered over 300 sacks of wheat flour to the affected population. Thank you very much!.
We have not leaved our citizens without attention. Members of the Georgian Dream's youth organization, with the help of the Rescue Service, went through the hard way to provide the people living on Nenskra's left bank with food, water and basic necessities.
The hard work was done by the media. Frequently, journalists and operators have risked their lives to come to the villages of the disaster zone to provide people with the right information. Thanks to media for standing by Chuberi during the hard days.
Once again I would like to thank all agencies and people who were involved in problem solving and helping the population. "
Respectively
Samegrelo-Zemo Svaneti Governor - Levan Shonia.
პროექტ დაიჯესტი
Poto Galery
რეგიონის რუკა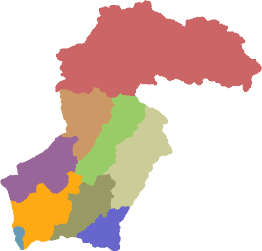 News calendar
ბანერები