Press release
Prime Minister Familiarizes Himself with Nikoseuli Palace rehabilitation Work
2018-06-27 18:50:00
The palace of Niko Dadiani, the last Prince of Samegrelo, returns to its original appearance-today Georgian Prime Minister Mamuka Bakhtadze familiarized himself with the ongoing rehabilitation at this unique architectural site.

The palace's construction segments have been fully reinforced. The building has been stone-clad with old Georgian bricks repeating their authentic alignment and form. Modern ventilation, conditioning, and heating communications have been installed. The authentic doors and windows in the palace have been fully restored. The Nikoseuli Palace's rehabilitation work, worth 2 million GEL, will be completed in September.

The Prime Minister also visited other sites incorporated into the Historical and Architectural Museum of the Dadiani Palace, including the Princely Mtavriseuli Cathedral, the Palace's Botanic Garden, and the Museum established to preserve the ancient repository and treasures of the Dadianis and Georgian antiquities transported from Samegrelo's churches and monasteries.

The Prime Minister also took interest in the rehabilitation of the Zugdidi Botanic Garden financed by the National Agency for Cultural heritage Preservation and the Cartu Foundation.
პროექტ დაიჯესტი
Poto Galery
რეგიონის რუკა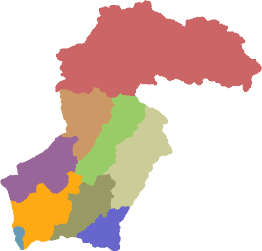 News calendar
ბანერები