Press release
Public Discussion - ''Open Governance - Action Plan 2018-2019''
2018-05-03 18:21:00
Public Discussion at the Center of Democratic Involvment at Zugdidi was held on the following subject: "Open Governance - Achievements and Challenges, Action Plan 2018-2019".
Open Governance Georgia's priority directions were presented to the audience, the Ministry of Justice, Transparency International - Georgia, Data Exchange Agency and USAID.
The discussion was organized by the Ministry of Justice of Georgia and USAID, which was attended by Nugzar Gabelia, Head of the Samegrelo-Zemo Svaneti Regional Projects Coordination Department, local self-government and NGO sector representatives.
Georgia is one of the first countries which has joined the Open Government Partnership (OGP), an international initiative. Up to presentday, the OGP chairmen have been successful countries such as Great Britain, Indonesia, Mexico, South Africa and France. Georgia will occupy the position of the Chairman of the Open Governance Partnership until October 2018.
Georgian Government and Open Governance will present Georgia's fourth action plan for 2018-2019 at the global summit. This document will be developed through active consultations with civil society, international partners and citizens through active consultation. It is a priority for the government to listen to the views of Georgian citizens in this process, share their ideas and recommendations
პროექტ დაიჯესტი
Poto Galery
რეგიონის რუკა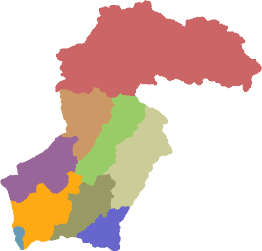 News calendar
ბანერები